Since 1920
Window Treatments
---

If you are one of the many people that consider window treatments an afterthought, then you need to reconsider. Window treatments play a very important part in the design of a space, and they provide a wealth of other benefits.
Here at Brulhardt Brothers, a leading custom shades New York City provider, we want to let you know that window treatments are an essential part of your home or office design. Why? Here's a look at just some of the many reasons why shades New York City should be regarded as an important element in any room.
Quick Tip!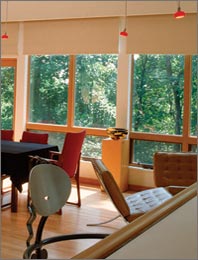 Solar screens can block out up to 99% of the light and UV rays to offer protection for your furnishings.
Mini blinds, wood blinds, verticals, and natural shades.
They Complete the Look of a Space
You spend so much time picking out the furniture, the paint colors, the flooring and the decorative accessories in your space. The room looks beautiful, but if you overlooked window treatments, the space just wouldn't look complete.
Window treatments complete the design of a room. They make it look as if it has been completely dressed; just like beautiful jewelry or a tie does for an outfit. Naked windows can make a room look sparse, no matter how beautifully decorated it may be. Whether it's shades NYC, custom curtains or a combination of the two, window treatments are an absolute must if you want your space to look polished, pulled together and complete.
They Provide Protection from UV Rays
The rays of the sun are powerful enough to penetrate through windows. UV rays that pour through a window can do damage to the furnishings, the paint and other elements in a room. The UV rays that penetrate through windows can be so powerful, in fact, that they can even do damage to your eyes and skin. Window treatments are an effective way to minimize the harmful effects of the sun's powerful UV rays, protecting your furnishings, your eyes, and even your skin.
They Provide Privacy
While there is nothing better than having natural light flood into your home or office and having views of the outside, your windows also allow people outside to see into your home or office. Imagine how uncomfortable – even dangerous – it would be to have someone looking through your windows and into your own, private space?
Adding treatments, such as shades, curtains or blinds, to your windows will prevent people from looking into your space, providing you with the privacy that you desire and deserve.
The Reduce Energy Consumption
Did you know that the hot and cold air that your HVAC system produces can be lost through your windows – and your windows don't have to be open! Even if you have the best windows on the market, a certain percentage of hot and cool air seeps out through the windows. The result is a home or office that is less comfortable, an HVAC system that has to work harder to cook and heat the space, and increased energy bills.
Window treatments can help to stop this loss of energy. Thermal curtains, for example, are specially designed to reduce energy loss, improve the energy efficiency of your home or office, thereby reducing the cost of your energy bills.
They Make a Space More Inviting
As we previously mentioned, a room with windows that aren't dressed appears sparse; and a sparse room is not necessarily a welcoming room. Window treatments can help to make any room more comfortable, inviting and relaxing. With window treatments, your home will look like it is lived in and cared for, thus making it a more enjoyable place to spend your time.
If your windows are lacking treatments or you are just ready for a change of pace, you have come to the right place! Here at Brulhart Brothers, we offer an extensive collection of window treatments, including:
Natural woven shades
Custom-made shades and curtains
Architectural Shading Solutions
Blinds
Shutters
Motorized curtains and shades
And so much more!
No matter what type of window treatments you are interested in, you will be sure to find exactly what you are looking for at Brulhardt Brothers.
Not sure what kind of window treatment you are looking for? No problem! Our design professionals have excellent experience and a keen eye for design. They will be able to help you find the best type of window treatment for your particular needs and your taste. They will guide you through the entire process of selecting window treatments for your home or business.
If you want to improve the design, the comfort and the privacy of your home or business, and you want to reduce your energy use, too, then you have come to the right place!
At Brulhart Brothers, we have nearly 100 years of experience providing window treatments for the residents and business owners of New York City. We would love work with you and help you select the right window treatments for your space. Give us a call to set up a consultation today!